Q1: Why can't a parent access online registration forms? Click here for Parent Portal Access tips.
They forgot their web portal user credentials. If a web portal user has forgotten their web account Username and/or Password, they can retrieve their Username and/or Password by clicking on the link below the Password field and entering their email address (which must match your SchoolWise SIS data) to have their login credentials emailed to them. If needed, a school administrator can access the parent portal web account username and password. From the SchoolWise web Admin / Manage Users link, go to the Parents tab and click on the hamburger menu next to the Username and then click on Display User Credential.
An in-household parent may not be marked as a parent (blue dot) in the desktop SIS. Click here for more details.
An out-of-household parent is using an individual parent web portal account that does not have access to online registration forms. Only in-household parents have access to online registration forms.
Q2: When does data sync between the SIS database and online registration form?
When a form instance opens for the first time, it queries the current values of the SIS database fields it uses. When a school admin approves and uploads a packet, the modified form data is written back to the SIS database.
Q3: What SIS Notes are shared with parents?
SIS notes are not shown in any parent/student portals except for some online registration forms.
The Student Red Flag Notes in the SIS are not synced to any online registration forms. These notes are confidential.
The Student Notes in the SIS is only synced to the Student Application form.
The Family Household Notes in the SIS is synced to the Family Household Information form and New Parent Application form.
The Family Personal Notes in the SIS is synced to the Family Household Information form and Emergency Contacts form.
Q4: What is our limit for the number of family contacts which can be added?
The Family Household Information form is currently set to allow up to 10 in-home family members plus 12 outside family members. You add/remove/edit contacts in this form. This contact list is common to all students in the family. The Student Emergency Contacts form imports saved data from the linked Household Information form of the same FamID. The Student Emergency Contacts form is where you specify the student relationship to each individual contact and associated permissions. You cannot add or remove contacts in the Student Emergency Contacts form.
Q5: Do forms include an auto-save feature to minimize data loss from various scenarios (web portal time out, device power loss, unintended browser screen refresh, etc.)?
Forms only auto-save after every change of a textarea control field (the long text fields for notes & essays). You have to click the finish later link to manually save data in other types of form fields.
Q6: What file types can be attached/uploaded?
Most parents attach a jpeg file (which is the default image file type for most phone/tablet cameras) or a pdf file. The default file types supported by the online forms are shown below (ALL Supported Types). Depending on what device and OS you are using, the device may or may not filter these default file types to only show All Supported Types. Some devices won't filter the file types and will display all All Files by default. On a PC you can change the file type filter by selecting All Files instead of the default All Supported Types.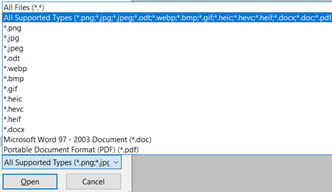 Q7: What difference does the preview as a new student checkbox make in the student application packet preview?
An application packet can be opened for a new student or an existing student in some school districts. The checkbox on the preview allows you to preview the packet and its forms as they will appear for a new student (new-student forms included, and blank existing values), or as an existing student (current student data is pre-populated from the SIS and NewStudent-only forms are excluded).
---
What's Next