COVID-19 Attendance Questions - Quarantine/Testing/COVID
---
UPDATE - Please click the link below for details:
Click here to see the latest information from the Legislature
Question: How do I mark students in SchoolWise that are on quarantine or waiting for test results?
Answer: Most auditors suggestthat you should use Short Term Independent Study* to handle this. The maximum is 14 cumulative days (not consecutive) then you have to move the student to Long-term Independent study.
*(Please check with your auditor) to find out exactly what situation best fits your specific LEA. SchoolWise can help you to implement a solution for you if you require something besides short-term IS to handle this.
SchoolWise has been contacted by (LEAs) who have started their 2021–22 school year and are dealing with many cases of COVID-19 infections and exposures, compelling them to send students and staff into quarantine. The most common question we have been receiving is: How do I protect my average daily attendance (ADA) for the period that students are in quarantine? While we can't say that this is the only approach to the problem (please check with your own auditors and CDE) we have been told by some auditors that the way to handle this is with Short Term Independent Study.
Short Term Independent Study is not more than 14 days. If the duration is greater than 14 days, this would be considered Long Term IS. Please see: SB 130 Bill Long Term Independent Study Setup for more information about IS greater than 14 days.
In SchoolWise Short Term Independent Study is already in place. In the desktop client you would choose Absent then set the reason as seen below: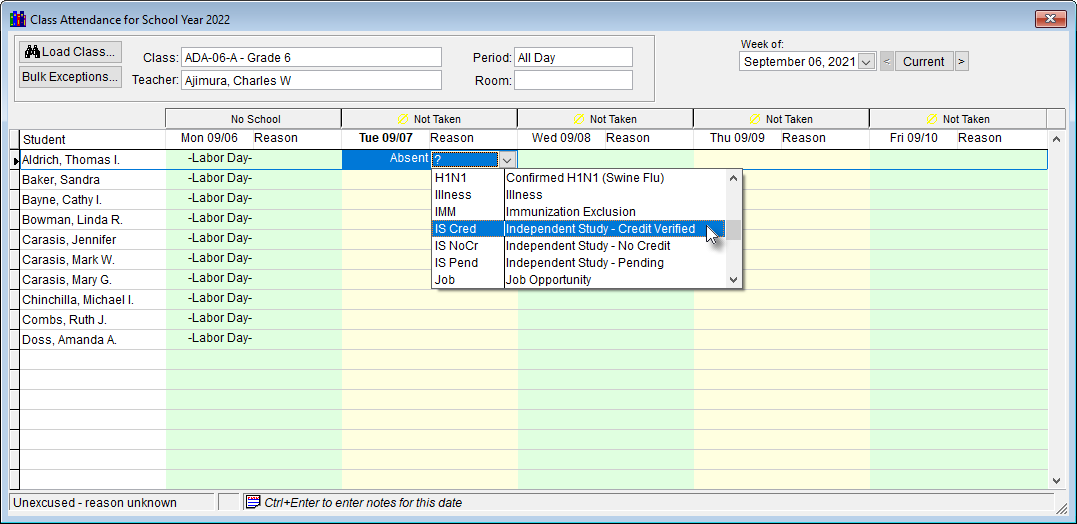 For a student to receive ADA they need to be marked as: IS Cred while this is marked as an absence in the system it is re-calculated back into the ADA reports as a separate line item for Independent Studies. All three choices are listed below:
IS Cred - Credit Verified (Work Completed) Counts toward ADA
IS Pend - Pending (Waiting for work to be received) Does not collect ADA
IS NoCr - No Credit (Work was not completed) Does not collect ADA
What is the COVID Absent reason used for?
The COVID absent reason was set up in SchoolWise as a specific way to track who was out sick with a contracted case of COVID-19. Some schools wanted this specific reason to be in place it is up to you on how to use it. Setting a student's Absent reason to COVID loses ADA as do ALL absences except IS Credit
Note: The minimum number of consecutive days that a non-charter school student must participate in traditional independent study in order to generate ADA is three consecutive school days (no min for charter schools).
Here are some more related documents that might be of interest:
Documents from: School Services of California Inc. (SSC)
Ask SSC . . . How Do I Protect ADA When Students Quarantine_ _ SSC.pdf
Help! I've Quarantined and I Can't Get (My ADA) Up! _ SSC.pdf
COVID-19 Related Resources
https://www.sscal.com/covid-19-related-resources
---