Gradebook Navigation Guide
---
After you log in you will see a list of all of your classes which have been set up.

The example class Grade 4 shown here with a period of Day is not an academic class and should not be used to enter grades. It is a homeroom and should only be used for recording attendance.
The Attend button opens up the attendance form.
The Seating button opens up a seating chart.

opens the letter gradebook.
The Setup button duplicates some of the functions in the gradebook (explained in a later section) and displays printable login activation codes for students and parents.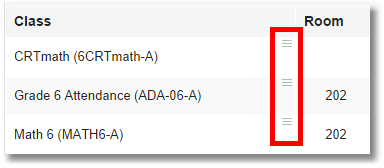 The three little horizontal lines used in

various places bring up context menus.
On this page there are options for sending messages to parents and students who have already signed up for parent or student portal accounts, as well as and printing some class grade reports.
Messaging and Student Password Retrieval

To the right of each student's name in the gradebook is a three-line "hamburger" menu button.

Clicking on it brings up the menu: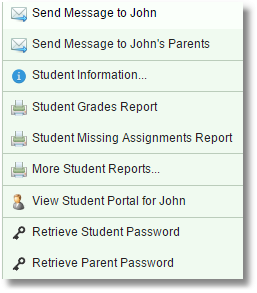 Send Message to [Name] brings up a form where you can send a message to a student or parent if they have created an account. If they have not registered for an account you will not be able to send messages and the option will be grayed-out.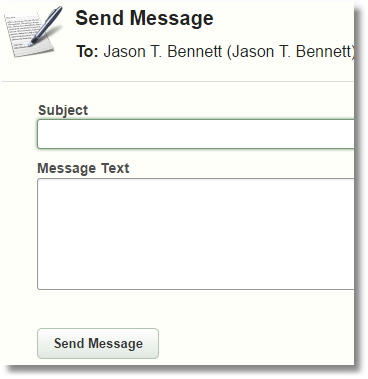 Student Information provides quick access to essential information.

There are two grade reports available for individual students: Student Grades Report as well as Student Missing Assignments Report which will retrieve assignments where you have entered a score of M for missing.
More Student Reports brings up a list of custom reports for the individual student.
View Student Portal for [Name] gives a view of what the student/parent portal looks like for the selected student.
Retrieve Student Password/Retrieve Parent Password brings up the form shown displaying the student's or parent's username and password.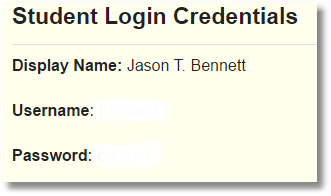 Seating Chart
The seating chart simply allows you drag student names around forming a chart which can be printed. You can add as many rows and columns as you wish.
Gear Menu

At the far right side of your list of classes is a gear symbol: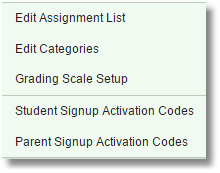 Student Activation Codes
Clicking on the gear brings up the menu shown. The first three choices call up the same functions as described earlier. Clicking Student Activation Codes brings up a printable list of student (or parent) activation codes.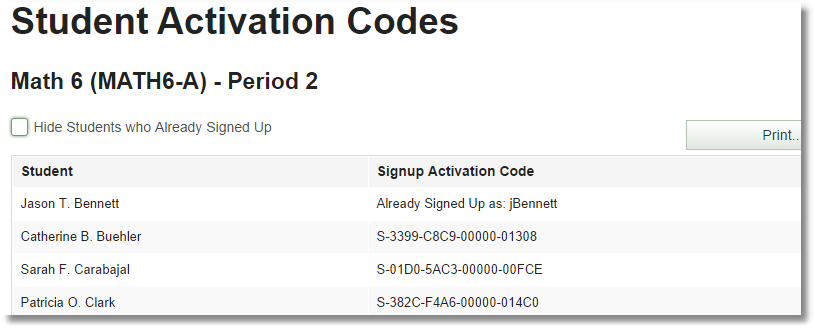 These can be printed and cut into strips, and given to the students to enable them to sign up for accounts to the student portal where they can see their grades. The school also has the option of printing letters from SchoolWise with the parent activation codes.
Attendance
Important: For self-contained classes (not period-by-period attendance) you should only take attendance in the class with a period of Day. For middle and high schools using period attendance you would take attendance every period, but for elementary schools you would only record attendance once per day.
From the home screen, clicking on Attend for a class opens the attendance form.
Simply clicking on Abs marks a student absent. Clicking it again undoes the absent, similarly with the Tardy < 30 (less than 30 minutes), Tardy > 30 (greater than 30 minutes).
When you have completed taking attendance you should click the button changing it to
Once the attendance supervisor verifies the absences, the gradebook attendance will be locked for auditing purposes and you won't be able to edit it any more.
The notes field allows you to make a note in the attendance record, which can be read by the office.
---
What's Next