2021-2022 SB 130 Bill Distance Learning and Independent Study Setup
---
SchoolWise 2021-2022 SB 130 Related IS Overview
Attendance setup for Independent Study sections will enable the same reasons as those used for "mixed" mode last year.
For days when students are remote, teachers can use the engaged/unengaged as they did last year. For days where IS students attend in person, teachers can record absent/present. Teachers set attendance by using the 'Abs - Not Set Yet' button.

Clicking on the left side of the button (Abs) will cycle through Abs and Pres options.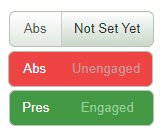 Clicking on the right side of the button (Not Set Yet) will cycle through Engaged and Unengaged options.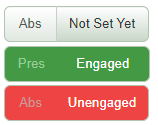 Each status allows for various reason choices. See the chart below for examples .
This new law has been around for only a few weeks, so schools have not had much time to figure out how to implement it. This is what we have come up with so far, based on one of our schools who was working with an auditor. So hopefully it will be okay, or at least close.
Our understanding of the new law comes from https://edsource.org/2021/california-directs-districts-to-offer-remote-independent-study-this-fall/657578, which says in part:
The SB 130 bill creates new provisions for distance learning and independent study, which could be preferable for a variety of students, including those who are medically vulnerable, too young to get vaccinated, or students with other exceptional circumstances such as traveling athletes.
Independent study programs themselves will have to meet a higher standard this year, too. Those requirements include the following:
Curriculum, instructional minutes, and student-to-teacher ratios must be equivalent to what is offered in-person

Access to technology and Wi-Fi must be made available for all students

Plans to monitor and keep a record of daily participation, which could include online activities, live instruction or completing assignments without teacher supervision

Plans to support English learners, students in foster care or other high-needs groups

Meals must be available for students in distance learning if they qualify for free or reduced-price lunches

Plans to transition students who wish to return to in-person instruction in no less than five instructional days

Strategies to re-engage students who are absent for several days

Regular communication between caregivers, teachers and students regarding a student's academic progress

For high schools, access to all courses offered for graduation and approved by the University of California or the California State University
The bolded item above is why we went with the "engaged" status options, so teachers can record what the IS kid is doing each day they are remote.
How to Setup for SB 130 - Independent Study in SchoolWise
The way to set up long term Independent Study (IS) for the 2021-2022 school year is as follows:
Step 1 - New DEPARTMENT codes need to be created in the Pick-List before setting up IS courses.
Go to the File menu - District Setup and choose Pick-List Items Setup... as seen below: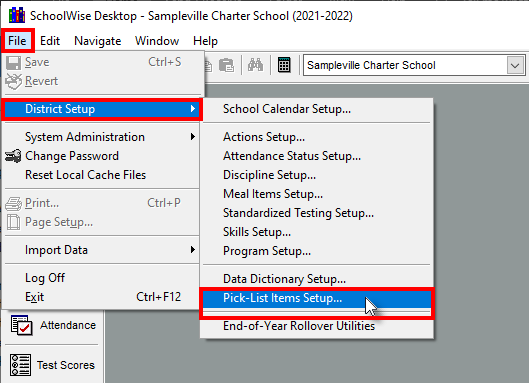 Step 2 - Click on the pulldown menu and choose DEPARTMENT you may also just type DE and it should navigate right to it.
Click on the New icon to create new picklist items as seen below. (Top left-hand corner)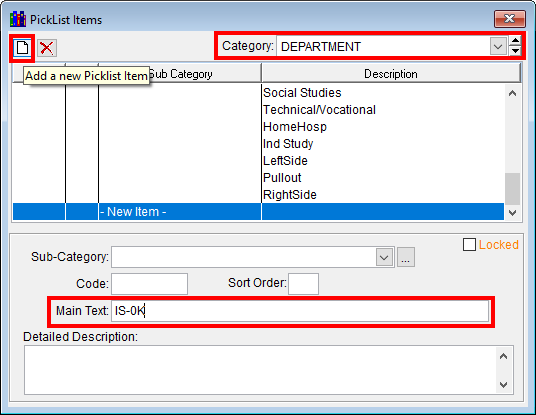 Step 3 - Enter the first new IS code into the new DEPARTMENT you just created under the Main Text box only.
Click New for each new code that you wish to enter. It would be best just to enter all of them. It will autosave.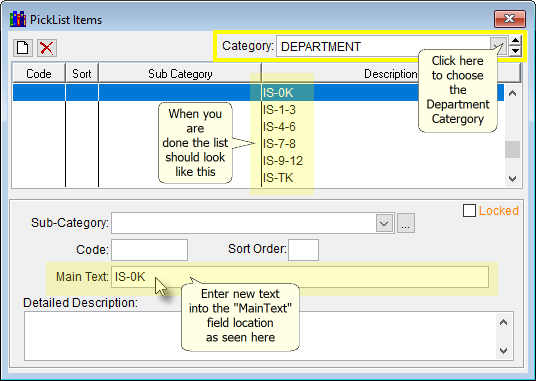 When you are done the DEPARTMENT list should now contain the following codes:
IS-TK

IS-0K

IS-1-3

IS-4-6

IS-7-8

IS-9-12
Step 4 - Set up new courses for each IS Grade that you need. In Courses setup create separate Grade Level ADA courses (not Academic Courses) for each IS Grade as seen below:
(The most important thing is to set the Department field to: IS-TK, IS-0K, IS-1-3, IS-4-6, IS-7-8, IS-9-12 corresponding to Kindergarten, Grades 1–3, Grades 4-6, Grades 7-8 and Grades 9-12. The ADA report subtotals by the Department field so that when the Monthly, P1, P2, Annual ADA report is run there will be separate subtotals in these categories.)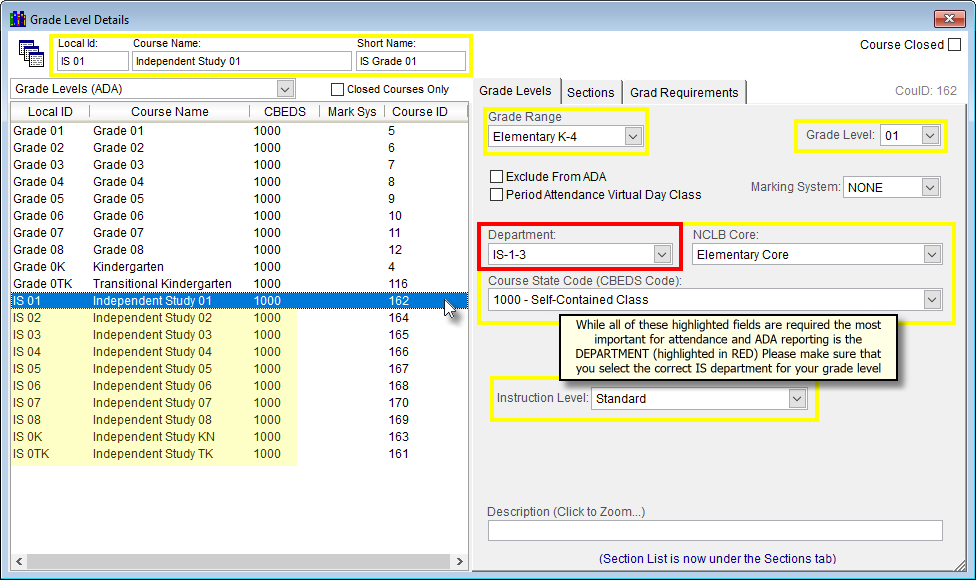 Step 5 - Make sure to create new grade level (ADA) course sections for each IS course that you need to enroll students into.

When a student switches to IS you have to unenroll them from the Grade level class and then enroll them in the IS class. Make sure to un-enroll on the first day they are not in the Grade level class and use that same date to enroll into the IS class. Do not use ALTER ENROLLMENT! Also keep in mind that you only have to un-enroll students from the current 0H or Grade level class - Not from all of the academic courses.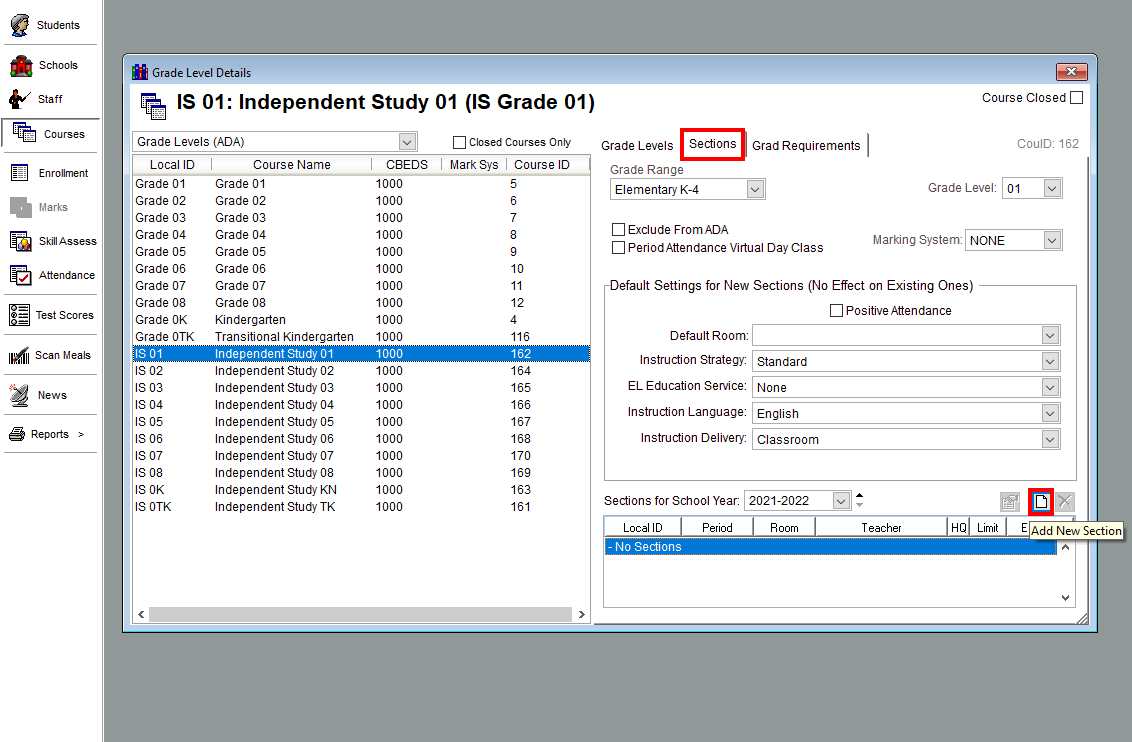 Taking Attendance for Long Term Independent Study
For courses with the Department field set to IS- the teacher attendance interface will now look as follows:
The values for teachers will now be similar to those used in Distance Learning last year: Not Set, Engaged, Unengaged, Absent, Present. Some schools and districts have independent students on campus some days and at home on other days.
When they are supposed to be on campus the values to choose would be Present or Absent.
When at home the values should be Engaged or Unengaged.
Please note: With Independent Study learning, every student must be marked either Absent/Present or Engaged/Unengaged every day. Failure to do this could result in audit exceptions.
---