How to Create Teacher/Staff Web Accounts
---
Web Portal Access
You will need to create a SchoolWise web portal user account (this web account is separate from a SchoolWise desktop SIS user account).

A staff member must exist in the SchoolWise desktop SIS before a SchoolWise web portal account can be created. Click here for instructions to add a staff member to a school in the SchoolWise desktop SIS.
To create a SchoolWise Web Portal account, please follow these steps:
1. Open an up-to-date internet browser (eg. Chrome, Edge, FireFox, Safari, etc.) and enter your SchoolWise Web portal URL into your internet browser's address bar.
The URL assigned to your school for SchoolWise Web access should look like this: YourSchool.schoolwise.com where "YourSchool" will be unique to your school. Do not try to connect to YourSchool.schoolwise.com. "YourSchool" is simply a subdomain prefix assigned by SchoolWise for your specific school district or charter school. It will be different for every school district. After your web module has been set up, we will provide the specific prefix to you. When entering the website address, do not add the "www" prefix to your school subdomain. SSL will flag it as a security problem since www.YourSchool.schoolwise.com is not the same address as YourSchool.schoolwise.com.
2. Click on Staff Signup.
3. Click on Request Activation Code.
4. Fill in First Name, Last Name, Email, and Date of Birth.
All of this information has to match what is in the SchoolWise Desktop for security verification - as seen below.
The email address and all other required fields must be the same ones entered into the SchoolWise Desktop. At times schools have had the wrong email or birthdate entered for a teacher, so please verify this information or it could cause confusion.
If any of the required information does not match what's in the SchoolWise Desktop then the security validation will fail and you will see the message below:
If all of the data matches the security validation will pass and you will see the message below:
5. Please check your email for a message like the one below sent from noreply@msg.schoolwise.com:
When you open the email you will see your access code. You may copy and paste this, or just click the link provided to complete account setup.
6. You will see a form suggesting a first-initial-last-name username, and you will be prompted to enter a password of at least seven characters in length containing at least one number. If the system tells you that the username is already in use then type in another. (Since parents and students can have accounts there are potentially thousands of users and it is possible that your first-initial-last-name combination is already in use.) After choosing an acceptable username, click Create Account.
7. This brings you to the User Login screen. Enter your username and password, and you will be brought into your gradebook homepage where you will see all of your classes like the example below:
Web Account Settings
A teacher can set/change their own display name, user name, email address, password, physical/mailing address, phone numbers, photo, and email notification settings.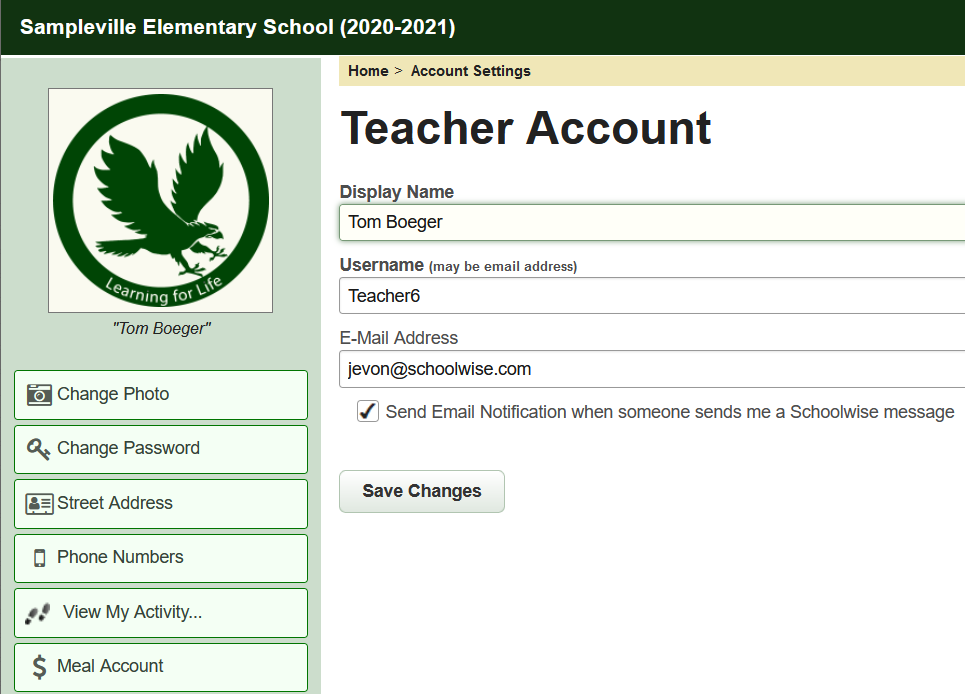 How to Retrieve Username or Password
If a teacher has forgotten their web account Username and/or Password, they can retrieve their Username and/or Password by clicking on the link below the Password field and entering their email address (which must match your SchoolWise SIS data) to have their login credentials emailed to them. Please check your email for a message sent from noreply@msg.schoolwise.com which will include the web account login credentials.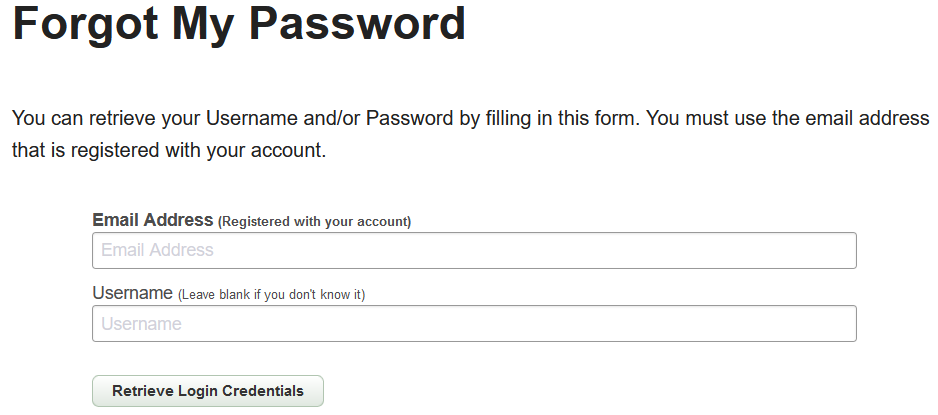 Note: If needed, a school administrator can access the staff web account Username and/or Password. From the SchoolWise web Admin / Manage Users link, go to the Teachers tab and click on the hamburger menu next to the Username and then click on Display User Credential.
---
What's Next